Thar she blows! Moby Dick Slots is on the loose at Pots of Gold
Ready your harpoon sailor - a new slot from Microgaming has surfaced!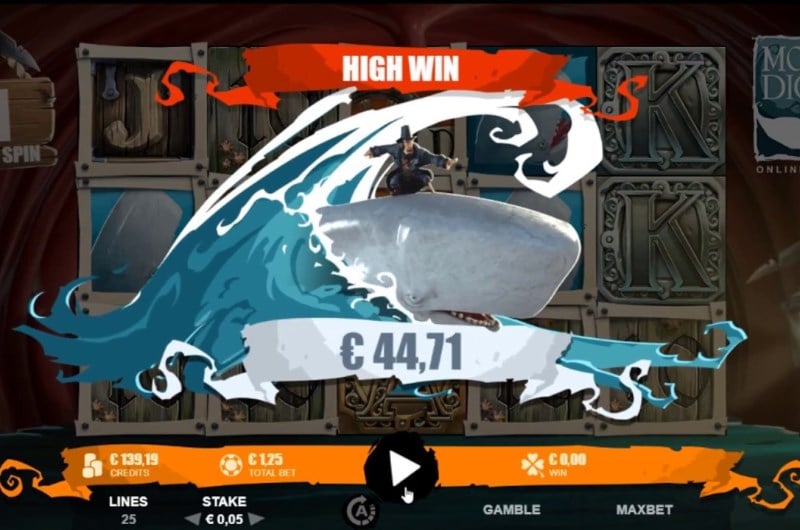 Moby Dick Slot Game Review: This new Microgaming slot is now making a splash at Pots of Gold casino!
Based on the classic novel from Herman Melville, this 25 payline slot sees Captain Ahab do battle with his watery nemesis; the legendary Moby Dick. Theme wise, the slot is set against a background of choppy waters - unless you enter the free spins, where you will also venture into the mighty whales stomach!
Moby Dick is an interesting combination of 3D graphics and almost clay model like textures which were prevalent in 70s and 80s kids TV shows. The blend works well - creating a scene which perfectly highlights Captain Ahab's mission of overcoming the monster.
Symbols wise, you will find Captain Ahab, Moby Dick and ship related items like the anchor forming the high value symbols - while the card suit symbols represent the low value pays. Aesthetically, we can't fault the Moby Dick slot game - but what's it like to play?
Moby Dick Slot Review
Our short Moby Dick slot review? This is typical Microgaming magic. The most magical feature present in the slot is the freezing symbols mechanic. Hit a win and those winning symbols will instantly freeze into place. The slot will then re-spin for free allowing more winning symbols to join the party.
Now what about the all important Moby Dick slots free spins? Well, first you will need to match 3 or more of the free spins symbol, which happens to be Moby Dick's giant mouth - and yes that is foreshadowing for poor Captain Ahab.
Once you have matched the symbols, the whale will eat the obsessed sailor and the reels will transition into Moby Dick's belly. Your 12 free spins will then begin; there's no additional features to note here other than the freezing symbols and bonus spins.
The Moby Dick slot also features a gamble mechanic; you can double your slot win up to five times by picking between two mugs of team. Pull out a rotten fish, and you forfeit your bet. Pull out a teabag and you double your cash.
Play Moby Dick Slots at Pots of Gold
With a unique visual style, fast paced gameplay and that rewarding free spins round - this is one slot that is bound to give you a whale of a time. We recommend you play Moby Dick slots if you enjoy watery themed adventures with regular bonus mechanics like the freezing symbols. Moby Dick slot is now available for real money or free play at Pots of Gold, Ireland's favourite online casino!