Great Rhino Roulette includes Reel Rhinos 🦏
Slots and roulette collide for an exciting blend of gameplay...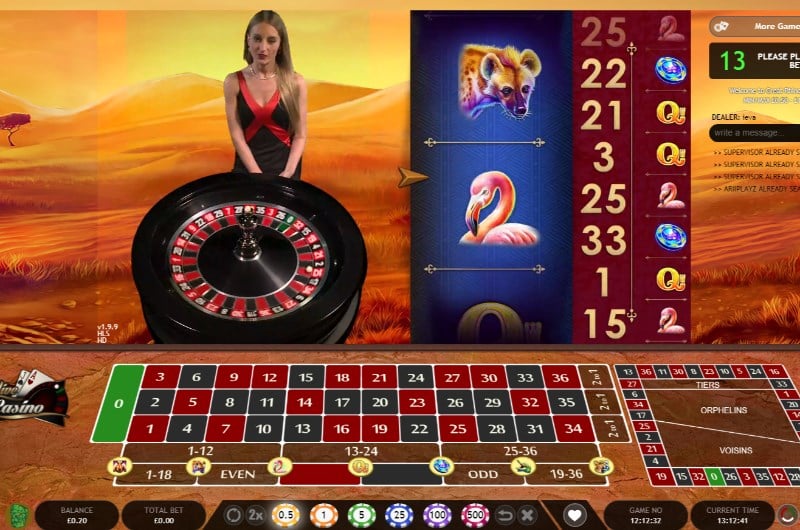 What would happen if we combine roulette... with slots? We're pretty sure the brainstorming session for Great Rhino Roulette was an interesting one.
But it has resulted in one of the most memorable live experiences of the year. Powered by Extreme Live Gaming, this live roulette room adds the fast and frantic action of slots to the classic table gameplay. This game is one of their new Reel Roulette games adapted for Pragmatic Play slots.
And if the theme and elements of the game look familiar, that's because the rooms themed after the Great Rhino slot. When you enter the room, you will see a sweeping Savannah - and this happens to be the slot background. Even the betting area is themed like the slot, featuring an arid mud design. But looks aside, what else is different about this live game? Let's take a look in our Great Rhino Roulette review.
Live Great Rhino Roulette Features
Above the main betting area, you will see the most obvious sign this isn't your average game of roulette. There is a slot game reel - and every time the roulette wheel spins, this will spin too. But the live
Great Rhino Roulette
game doesn't force you into betting on this area. You can choose to take this rewarding side bet by placing chips on the appropriate symbol.
We then have the roulette game itself, which is played on a European game wheel. This is already a positive point for us - as this classic wheel contains only one zero pockets. In comparison, the American wheel features an additional double zero pocket - making 50/50 bets more ineffective.
Other notable features include game statistics adjacent to the spinning reel. Here you can see the past eight winning roulette numbers and the past eight winning slot symbols. And as this is a live dealer casino game, you can also have a chat with the friendly dealer! Simply use the chat window to get started.
Great Rhino Roulette Review Verdict
If you're looking to change up your live roulette experience, then we highly recommend Great Rhino Roulette. This game presents an excellent opportunity for table gamers to get in some extra bets. It's also a fantastic game for slots players to transition to the rewarding world of live casino. You can play this game right now at Pots of Gold Casino on your mobile, tablet or PC device.