Starburst Slots Free Spins
Zoom off into space with the spectacular Starburst slots. The NetEnt slot game is one of the most popular games ever and is now available at Pots of Gold casino. Featuring gem symbols and stunning 3D graphics - this slot boasts a simple (but out of this world) feature set.
With the power of smartphones and tablets, the game has found an even bigger fanbase. And now you can enjoy the space-themed fun on the go. It's the reason why Starburst slots no deposit bonus deals have become so common. If you want to play this slot then you have come to the right lucky casino.
Starburst Bonus Features
NetEnt's 10 payline slot features a unique take on free spins - and it all starts with the wild symbol. This colourful gemstone appears on reels 2, 3 and 4 as a single symbol - but will expand to fill the entire reel. The slot will then re-spin (for free!); if another wild appears then the process repeats.
In total, the slot can respin up to three times. If Lady Luck is in a particularly good mood, all three central reels could be filled with wilds. And this could create a potentially lucrative opportunity.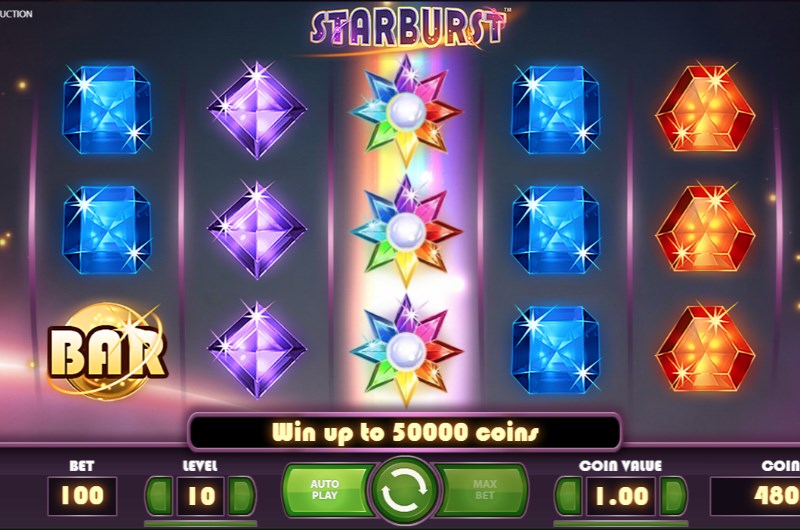 While the game is often criticised for having overly simplified features - this makes the game play at an even faster pace. If you like regular spins with little filler in between, then this game is perfect.
Thanks to the "both ways pay" feature, you also don't need to worry about paylines or ways to win. In a normal slot game, wins would be paid out from left to right. But in this slot, it doesn't matter which way you win. You can win from the left - or the right.
While
Starburst slots free spins
aren't what you would normally expect - they certainly do have a special charm. It's easy to see why this slot, in particular, has become such a worldwide hit.
How to play Starburst Slots
One of the many charms of this game is how incredibly easy it is to play. Choose your bet level and the number of paylines you wish to play - then press that spin button. The game is also available for mobile devices and arguably, this slot is even more simple to play in a portable format.
Thanks to touch controls and finger friendly shortcuts - playing on the go has never been easier.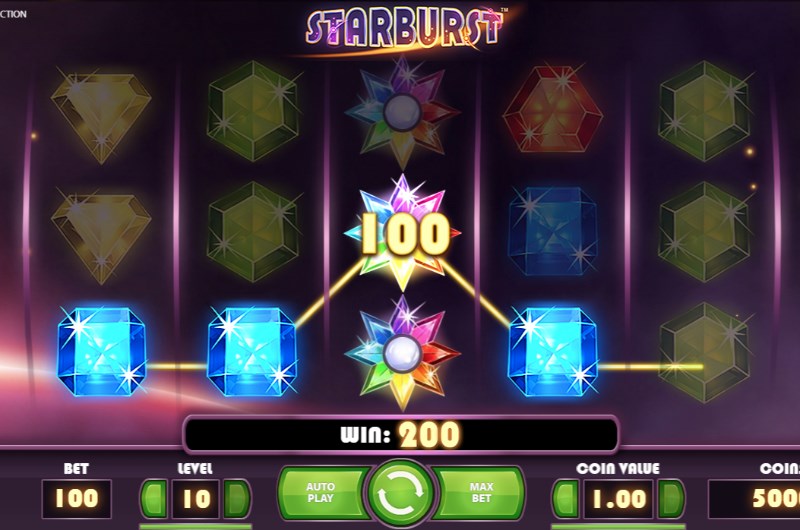 Like most slots, you will need to match a certain amount of symbols on one of the 10 paylines to trigger a win. In the case of Starburst, you will need to match three or more symbols. The more symbols you line up on the paylines, the bigger your win will be.
If you want to play for an extended period of time - then you may want to activate the autoplay option. This is a great way to save your digits if you want to play for a long time. An even more useful feature is the fact you can set advanced settings. You can stop the slot if you win a certain amount, if you lose a certain amount - or if the respin feature activates.
The only special symbol to watch out for in the game is the wild symbol - this symbol can appear on reels 2,3 and 4. As with wilds in other slots, the symbol will substitute for others in a winning payline. There are no bonus or scatter symbols to watch out for.
Graphics and Theme
Read any Starburst slots review and chances are - the writer will gush over the pixel-perfect graphics or the special effects. And we find it hard to disagree - this game is one of the best looking
NetEnt slots
out there.
First of all, the reels are crusted with stunning jewels and gems - these precious stones sit on top of a black canvas of space. The contrast is simply stunning - especially when you consider the true jewel of the game; the wild symbol.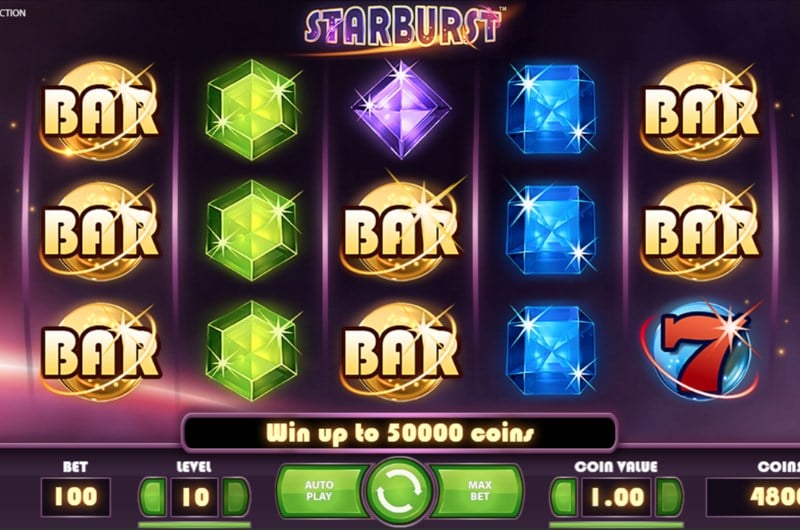 It's no exaggeration to say that this symbol has become the calling card of the slot. And you may see it sprinkled around just about any online casino.
Another area where this slot makes impressive strides is in its animation work. Trigger a win on one of the 10 paylines and you kick-start a catalyst of flashing lights, eye-popping effects and arcade style sound.
And the sound really is impressive; trigger the wild feature and the game begins to sound like a machine ready to change your fortunes...
Starburst Volatility and RTP
This NetEnt slot is one of the many low volatility games you will find at Pots of Gold. A low variance slot is an excellent choice for new players or those just starting out.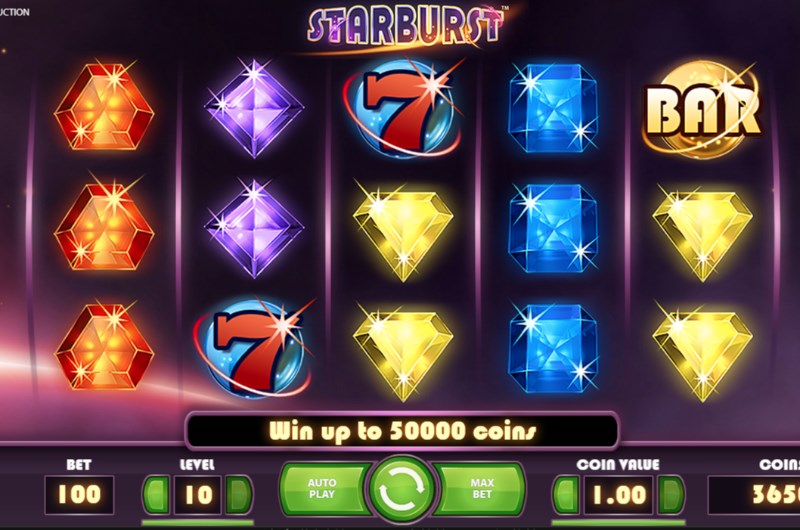 And in the case of Starburst - this is a good thing as it is typically the first slot many new players spin. The Starburst RTP is set at 96.1% - which is above average for this style of game.
Payouts
Due to its low variance and no progressive jackpot option, this game doesn't pack too much in the way of payout power. You are able to win a max prize of £50,000 if you place the largest possible bet.
The bar symbols, when combined with three central reels filled with wilds, can award the slots maximum payout out.
No Deposit Starburst Slots
Starburst is a one of a kind game - and it's absolutely bursting with betting opportunities. While there are far more feature rich games out there - the simplified gameplay of this slot makes for a refreshing and rapid experience.
Sure, some may lament the lack of free spins or other bonus features. But the expanding wild feature can have the same sort of impact as free spins.
Ready to have yourself some galactic fun? Click the register button above to play this classic NetEnt title plus hundreds of other
lucky slot games
.
All of our games can be played across all devices, so you can take the space-themed fun wherever you go. Suit up and start spinning!